Photos of Survivors
from Jewish Belchatow
Welcome to this website, dedicated to the Jewish survivors of Belchatow, a small town in central Poland. It contains photographs provided by the families of people in them. Several of the survivors pictured have strong desires to identify and hopefully locate their fellow Belchatowers who shared their growing-up years as well as the horrible years of the Holocaust experience with them. This site is set up to respond to that desire and hopefully to provide faces to those descendants researching their roots in Belchatow. (For further information about Jewish Belchatow see the links below.)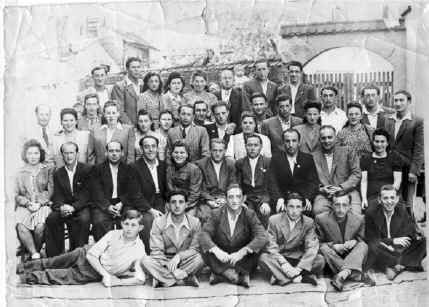 A group of Belchatow survivors in Freising, Germany, Summer 1946
(Photograph provided by Abe and Helen Fajwelman Peck)
(Click on photo for larger view and numbered list)
For Our Beloved Belchatow Families:
Please help us to remember their names and honor those in our families who suffered so much. If you recognize yourselves or any other family members or friends in these photographs, please follow the instructions and list the names in the Guest Book. If you know the present location and/or email address of any of these people, please send them to Roni Seibel Liebowitz, coordinator of the Belchatow ShtetLinks Website. That information will be kept private until the person is contacted and expresses interest in having that information made available to others. If you would like to leave some comments for others to see and perhaps respond to, please enter them in the Guest Book as well.
If you have any other photographs taken of the town of Belchatow or of people in Belchatow before or after the war, please consider sharing them with the rest of us. Those of us who came after the Holocaust have a strong need and desire to connect with our past and honor those who came before us.
List of Photographs:
Page 1: Large Group Photos taken in Freising, Germany in 1946.
Page 2: Photos at a Meeting for Belchatow Survivors in Freising in 1946.
Page 3: Photos taken in Föhrenwald DP Camp, Germany in 1946.
Page 4: Photos of Belchatowers at a meal in Lodz, Poland after WWII.
Page 5: Group Photos (including some Belchatowers) taken in Freising, Germany in 1947.
Page 6: Photos of Belchatowers in Argentina after WWII.
Page 7: Group Photo taken at Cemetery in Holon, Israel around 1975.
Top of Page
Links to further information about Belchatow:
Visit the JewishGen ShtetLinks Home Page for Belchatow.
This site was created to share information and photographs on Jewish Belchatow and to commemorate the Jewish community that was virtually wiped out in the Holocaust. It includes information (and links to other sites) about the town, Jewish history, the Holocaust, the Yizkor Book, and other Memorials to the Jews of Belchatow.


The town of Belchatow is included in the Lodz Area Research Group. Please visit this site for further information on researching your Jewish roots in the Lodz region.
You are invited to join the online mailing list.