Photo of Belchatowers
in Holon, Israel around 1975
at Cemetery Monument
This photograph was provided by Leif Rosenstock,
son of Fradjla Aisen, whose family came from Belchatow.
Please let us know if you can identify anyone in this picture. A numbered template photo is provided here as an aid in identification to complete the list of identified survivors below. Please include this information in the Guest Book.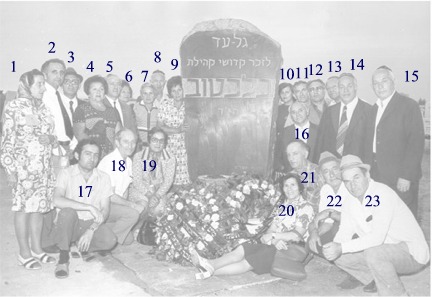 1. wife of Fishl Zwierzynsky (#22)
2. Menachem Sharon
3. Srurek Machabansky
4. Jocheved (Jeivet) Huberman
5. Moshe Binem Farber
6. Rachel Kleinman Kolberg
7. Pola Bugansky, sister of Fela Machabanski (#19)
8. Peled Yudah Plawner
9.
10.
11. David Leib
12. Cheskel Breitberg

13.
14. Wilhelm Eizel (from Argentina)
15. Kalman Scheinkopf (from Argentina)
16. (from Argentina)
17. Yukl Zwierzynsky (brother of #22)
18. Sucher (Issachar) Szotten [died in Israel 3/1/2002]
19. Fela Machabanski
20. Jadzia Szylit (Jocheved Shilit) Szotten
21. Mendel Lizerovitch
22. Fishl Zwierzynsky
23.

This page last updated 26 April 2006.