Photos of Belchatowers
at a Meal after WWII
These two photographs were taken after the War in Lodz, Poland, according to Mendel Kaufman, who was there (and then lived in Kibbutz Yifat in Israel, where he died in July 2004). The individuals in the photographs lived in Lodz at the time and, according to Mendel Kaufman, delivered clothes that arrived from Belchatowers in Argentina to other survivors in Poland.
Many of the individuals in the photographs contributed to the writing of the Belchatow Yizkor Book. Does anyone know more about them?
These photographs were provided by Lisa Webne-Behrman, grand-niece of Joseph Reich, who is in these photos.
Click on each of the photos to see an enlarged view, a numbered template for ease of identification, and a list of those already identified.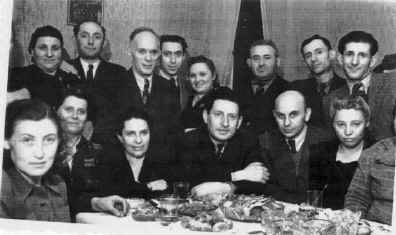 Belchatow survivors at meal in Lodz soon after WWII.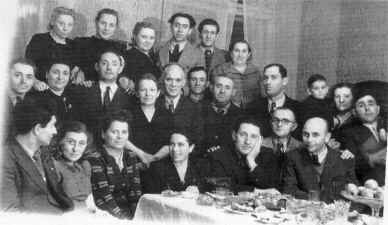 More Belchatow survivors at the same meal.